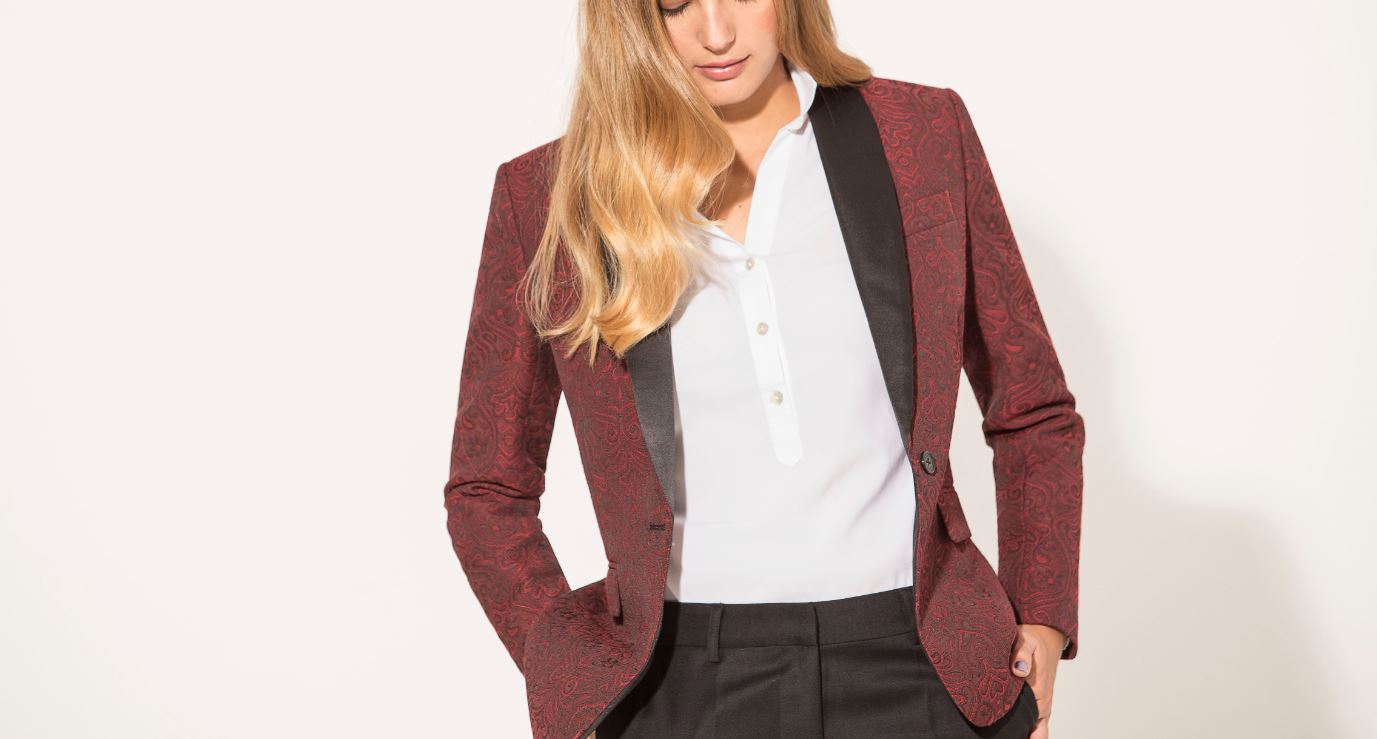 It's the time of year where holiday party invites have already been sent out and RSVPed to. This means you're likely to also be attending your office holiday party. No matter your everyday office attire, you can always wear a stylish blazer to any holiday event. Here's some inspiration on what to wear:
The Blazer
A festive blazer is a fun and real easy way to mix up your otherwise daily corporate look. Depending on your place of work you can pair your blazer with your business wear (simply switch your business blazer to a more festive one)! It really doesn't have to be more difficult than that. If you want a more festive option, pair your blazer with a dress or a blouse and skirt underneath.
Here are some of our favorite festive blazers:
Shiny Lapels make for a very stylish look. Because the lapels are shiny, the look is effortlessly festive-ready; depending on the work place, customize and choose your blazer color and shiny lapel color as you think fits the occasion and surroundings (that being your boss and co-workers) the best.
A classic black or white blazer is a forever-in-style option that works for any holiday occasion.
Black 100% Merino Wool Blazer with Black Shiny Lapels & White Blazer with White Shiny Lapels
Any of the blazers from Sumissura's Shiny Lapels Collection will work as a trendy and dressy yet office appropriate holiday party blazer!
If shiny lapels aren't your thing, pick a blazer that's modern but with a unique fabric to make it differ from your everyday work/business blazer.
This pink and white blazer has a unique fabric making it a great blazer choice to any holiday (office) party.
The fabric exists in other colors as well, like this blue one below (find more of them in our collection here):
Why not choose this black paisley blazer, or a blazer with a blue shiny fabric (wool & silk blend)?
Black Paisley 100% Wool Blazer without Lapels & Blue Wool & Silk Blend Blazer
Customize your blazer here to add your personal touch!
Are You Looking for a Plus Size Blazer? Click Here to Find Out Great Designs

Enjoy the (beginning of) Holiday Season!